StoreHero, Inc. (headquartered in Shibuya-ku, Tokyo; CEO Junichi Kurose; hereafter referred to as "StoreHero") received 50 million yen in seed funding from Incubate Fund in May 2021 and Paul McInerney, General Partner of Incubate Fund has joined StoreHero's Board of Directors.
CONTEXT
With the recent surge in EC demand against the backdrop of the coronavirus pandemic, the pace of online store openings has accelerated. Historically ecommerce marketplaces such as Rakuten and Amazon have commanded significant market share, but brands and products with a long history and excellent equity are often buried among the millions of products on these platforms – unable to communicate their unique value to their customers. There is a rapidly growing need among these brands to build a direct relationship with their customers.
As a platform that addresses these needs Shopify is experiencing explosive growth worldwide. Shopify is a multichannel commerce platform used by more than 1.7 million individuals, companies, and brands worldwide, with a total distribution value of approximately 12 trillion yen in 2020, nearly double that of 2019. In Japan, it is also growing rapidly, with a 323% increase in total circulation and a 228% increase in the number of new stores in 2020.
Reference (Japanese): https://prtimes.jp/a/?c=34630&r=67&f=d34630-67-pdf-0.pdf
However, there are some commerce businesses in Japan that have struggled to achieve consistent online growth due to a lack of growth-skilled talent and engineering resources.
FEATURES OF THE SERVICE
Under the vision of "Grow the Friendships", StoreHero provides growth support services based on a unique growth platform to realize a world where anyone can easily and happily grow their commerce business.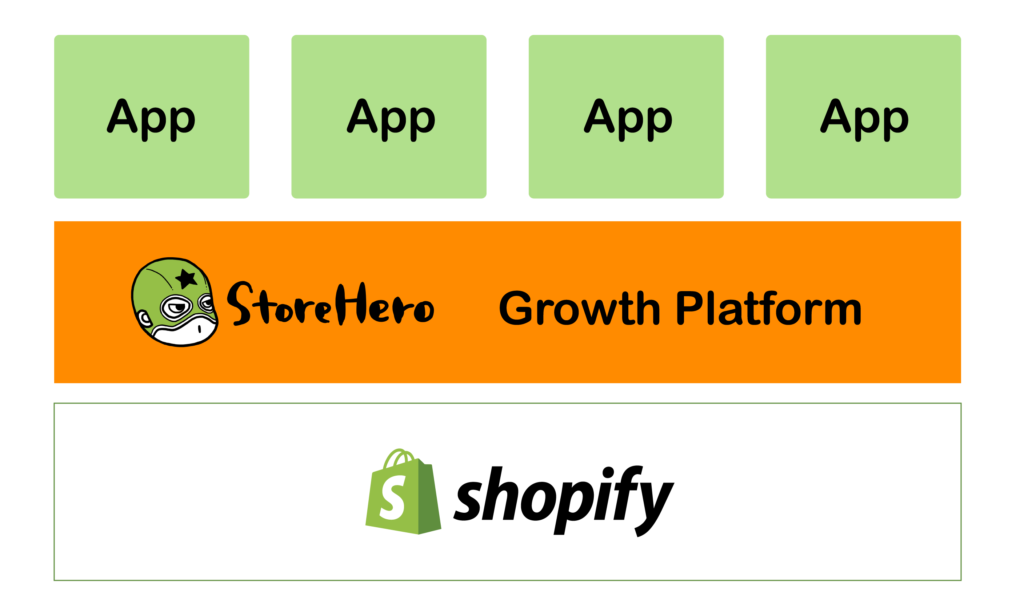 StoreHero will make advanced data analysis infrastructure and recommendation engines similar to those used by mega-platforms such as Amazon available to all commerce businesses that use Shopify.
In the most recent year, StoreHero has continued to build up a strong track record, including support of ANNA SUI, PAUL & JOE, LADUREE, and Mashiko Online Pottery Market, with some stores exceeding 100 million yen in monthly sales since launch. StoreHero is also seeing an increase in the number of customers that utilize Shopify to develop presence in overseas markets.
Paul McInerney, who has joined the StoreHero Board, was an 18-year veteran of McKinsey & Company before joining Incubate Fund in March 2021. He was a Senior Partner at McKinsey and led the McKinsey Asia Pacific Marketing & Sales group and subsequently the Retail and Consumer Goods group for a total of over a decade. He has an extensive track record of supporting retail and consumer goods clients across Asia to develop and execute digital and analytics-based growth strategies.
This seed funding will be used to hire Growth Data Architects, Server-side Engineers, Front-end Engineers, Growth Consultants, and other team members who will be responsible for developing the growth platform. If you are interested in joining the StoreHero team, please contact us via the link below.
https://storehero.io/contact/
COMMENTS
Junichi Kurose, CEO, StoreHero
With the support of Incubate Fund, one of Japan's top venture capital firms, and Paul's deep experience in the retail industry, the potential of StoreHero has been greatly expanded. We look forward to focusing even more on developing solutions that will help merchants around the world leverage Shopify for growth.
Paul McInerney, General Partner, Incubate Fund
I am delighted my first investment as a General Partner at Incubate Fund is with a fantastic team focused on a topic so close to my heart: growth. I look forward to working with Kurose-san and the StoreHero team to help great domestic and international brands achieve their full growth potential.
Mr. Yasuaki Tokumitsu, Shopify Japan K.K.
In recent years, as the evolution of commerce has accelerated, the task of helping merchants grow their businesses has become more complex and more important. We believe that the growth of our partners in the global Shopify partner ecosystem will further energize the ecosystem and contribute to more businesses using Shopify.
Mr. Kei Kato, ANNA SUI Japan
We are the Japanese subsidiary of ANNA SUI, a fashion brand headquartered in the United States. In order to build an e-commerce site in Japan, we needed to develop it on Shopify in order to coordinate the design and system with our own e-commerce site in the US. At the time, we were at a loss to find a web development company in Japan that was familiar with Shopify, and that was when we came across StoreHero.StoreHero was able to smoothly launch the site and upgrade it to better suit our needs with their detailed and thorough advice and support. We are looking forward to even greater support after this round of funding.
Mr. Takayuki Sakakibara, PAUL & JOE, LADUREE
StoreHero is a HERO Maker. Not only did they build our site, but they also trained our staff from scratch to become heroes who can grow our business on their own in less than a year. With this funding, we are confident that they will be able to strengthen their growth solutions and help us grow our business even further.
Mr. Hiroto Mizuno, Mashiko Online Pottery Market (dAgora)
We teamed up with StoreHero to create an online version of the Mashiko Pottery Market, which has a history of over 50 years, and the new online site has been enjoyed by many pottery market fans. Despite only three weeks to prepare the launch and a lack of internal engineering resources we were able to solve the technical issues in a timely manner and get the full benefit of the easy to start and scalable Shopify platform. As a partner who we can rely on not only for technology but also about growth strategy, StoreHero is a hero to us!
About StoreHero
StoreHero is a Shopify-focused growth solution provider that makes heroes of commerce businesses with its "Grow the Friendships" growth model. Based on its proprietary growth platform, StoreHero provides store building and growth support on Shopify.
About Incubate Fund
Incubate Fund is an independent venture capital firm specializing in investment and nurturing of start-up companies under the motto "FIRST ROUND, LEAD POSITION, BUILD INDUSTRIES". Incubate Fund has Japan's strongest track record in seed investing, with a total of over 62 billion yen under management and a cumulative total of over 525 companies invested in the past. Incubate Fund strives to be the partner of choice for aspirational entrepreneurs – working with them to launch great companies, build industries and create massive value through close long term collaboration.URL: http://incubatefund.com/
CONTACT
StoreHero Marketing team
e-mail:marketing@storehero.io
URL:https://storehero.io/contact/
Facebook:https://www.facebook.com/StoreHeroGlobal
Twitter:https://twitter.com/StoreHero2
Contact Us