Previously, I wrote an article about how to create UGC (User-Generated Content). I will introduce how to maximize UGC this time.
Maximize UGC means "to engage customers to become sellers".
UGC can be used effectively through various media, product reviews, Emails, social media accounts, Blogs, advertisements, interviews, infographics, Hashtag Contests, DM, and more.
I will introduce 9 useful tips, though there must be more ways to get "customers to become sellers" depending on your creativity.
Please refer to this article and create a UGC usage method that suits your business.
Product Review
The most used UGC in commerce is the product review.
Reviews with photos and videos are more reliable and promote conversion. The Shopify App also has Review Apps with pictures and videos.
Popular photo Review Apps are Instafeed and Loox.
StoreHero experimentally developed PhotoHero, a photo review Shopify App. It is an App that can review associating Instagram posts with linking products.
CC-Video & Photo Reviews can implement video reviews.
Reviews strongly influence the purchase rate. It doesn't matter if they are positive or negative reviews. It is better to collect as many customer reviews, even by offering coupons.
Product Reviews reduce Returning Rates
Accurate product reviews with photos can avoid misunderstanding and reduce product return rates.

At Rent the Runway, an apparel commerce site, reviews include age, body shape, and photos.
It is filled with various information. The product should be as close to what you expected.
Email
Email is a channel with a high purchase rate. UGC in email marketing can accelerate a further increase in the purchase rate.
Klaviyo's article on User-generated content (UGC) in eCommerce email marketing: the why and how provides some examples of UGC in email marketing.
As mentioned in the Klaviyo article, Dollar Shave Club claims to customers who have canceled as follows, "You don't have to believe me. Believe in satisfied customers".
Social Media Account
You indeed can take advantage of the UGC in your social media account.

GoPro reposts customers' Instagram posts. Customers are happy to be featured on GoPro's official account; they will upload more photos using GoPro to Instagram.
GoPro will also post the photo on its award page. If it's published and being popular, users get an award. It will motivate customers.
GoPro is the best example of implementing UGC since the product produces content. It promotes consumers to want to sell GoPro.
Blog
All you need to do is assemble the great UGC in a Blog if it's too challenging to create an award site like GoPro.
Customers will be happy to be featured in the Blog, so they share it on social media.
It's a bit tricky and deviates from UGC's context, though you can increase the number of posts on Pinterest every time you upload a Blog article. Creating a mechanism to automatically post the photos introduced in Blog to Pinterest using its API, and you can earn more customers from Pinterest to Blog.
Instagram is challenging to interact with your store; on the other hand, Pinterest can attract customers with linking to Blog.
Advertising Material
UGC is also used as advertising material.
You can utilize product reviews in Google's PLA (Product Listing Ads) and Facebook/ Instagram ads. It is easier to improve CTR by using reviews.
Let's integrate earned reviews as a critical material for your advertisement.
With Shopify App Stamped.io and Yotpo, you can use reviews as advertising material by linking with Google, Facebook, and Instagram ads.
Interview Articles
Have an interview with ideal customers who have good compatibility with products and write an article.
Write the best interviewing article; it's essential to make fans of the interviewees.
Customers will complement in the interview if they are satisfied with the product, but the words wouldn't be engaged unless readers are fans of the interviewees.
The most important part of interviewing is presenting the interviewees' positive attitude.
Questionnaires & Infographics
Taking a survey is also an influential UGC. How to choose products, how much your budget is, and successful and unsuccessful shopping is also UGC. The questionnaire results are as helpful as the product reviews when you make a decision.
You can use Google Form as the questionnaire, but if you want a cool and stylish one, careTypeform is recommended. It can elaborate, such as branching the question's condition, making the answer item a photo.
It will be shared and spread smoothly on social media if you put the survey results in an infographic format.
Infographics are visual representations of data and information. The following infographics are used in TheShopify's blog.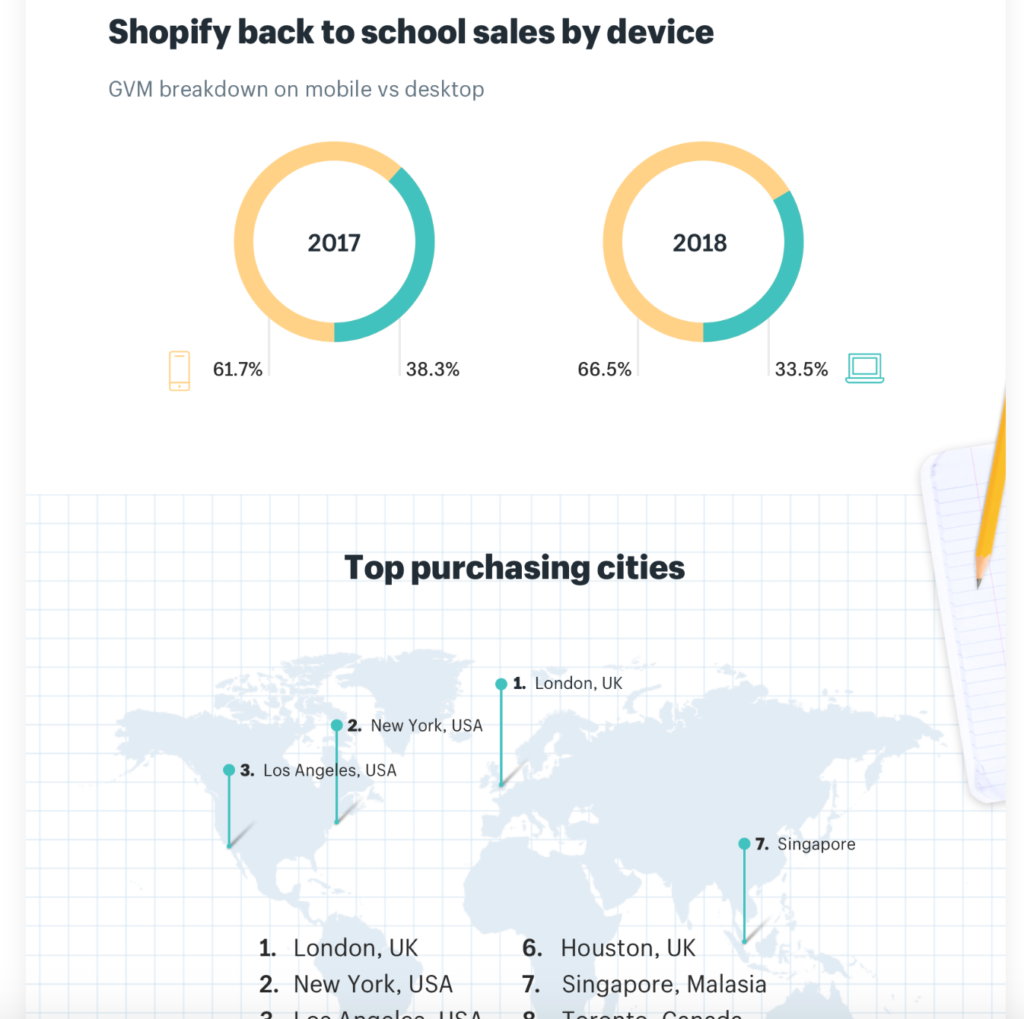 Hiring designers for the infographic is quite expensive. Canva and infogram can easily create it by yourself for free.
The Hashtag Contest
I've mentioned The Hashtag Contest in my previous article "the 7 steps of creating UGC", it is an excellent way to use UGC.
The Hashtag Contest is a promotion that asks customers to post a specific hashtag on social media. Picking a winner and providing a gift. There is also a version that tags friends instead of hashtags.
Cellucor, which sells nutritional drinks on Shopify, regularly holds a Hashtag Contest. The rule is to follow a Cellucor account, and tag 3 friends and post your favorite taste of Cellucor products.
Cellucor holds a contest regularly to prevent from losing followers.
DM immediately after the comment
A customer may comment on a Facebook post. Sending out a DM immediately after being commented could be diligent but certainly is an influential UGC.
For example, showing appreciation and promoting referral programs to customers who recommended your products and brands.
ManyChat automates this communication process. Select "Facebook Comments" in "Growth Tools" of ManyChat and
You can set whether or not to send DM when comments include specific words.
Engagement increases immediately after posting, especially after a positive comment. It is practical to ask any request at the timing.
Summary
Following on how to create UGC, here are tips on how to maximize UGC.
Creating UGC and how to leverage UGC are two sides of the same coin. There are many inseparable measures, but I decided to introduce them in two separate articles.
First, it is better to concentrate on creating and generating UGC, and then shift to engaging and maximizing it when the number of UGC increases.
There are other ways to use UGC besides the ones introduced here.
Please find a method that suits your business. Keep in mind "Customers to become sellers," and let's activate UGC in your company.
Growth Hacking consulting specialize in Shopify
StoreHero provides Commerce Hack, and a growth hacking consulting service specialized in Shopify.
It supports Shopify owners to grow faster, get their businesses back on track, and run their businesses.
If you want to use Shopify to grow your commerce business, please do not hesitate to contact us.
Contact Us