This time, I will demonstrate how to implement a referral program on Shopify.
A referral program is the star player of growth hacks. The growth hack cases, Dropbox and Uber, are great examples of the referral program usage.
On the other hand, a referral is known for its complicacy.
Products with low repeat purchase rates or products that are difficult to introduce to others are not suitable for referral programs.
If the customer retention rate is not ideal, increase the repeat purchase rate and LTV (Lifetime Value) first. Nobody wants to recommend a store that you're not satisfied with to your friends (bitter smile).
Please try a referral program after the repeat purchase rate has increased. If you have already been working on the referral program, please share the results and feedback. Your comments are highly appreciated.
What is a Referral Program
A referral program is a system that existing customers introduce to new customers.
There are two types of referral programs: incentive-based referral and direct referral.
A referral program is extensively used in SaaS and web services, so let's look at examples first. After getting a clear idea, it is time to launch it in the Shopify store.
Incentive-Based Referral
An incentive-based referral program is that artificially generated referrals using some incentives, such as loyalty points or rewards.
An incentive-based referral program is the most common referral in the commerce business.
Dropbox has accelerated its growth by implementing a referral program with an incentive of 500MB of additional capacity.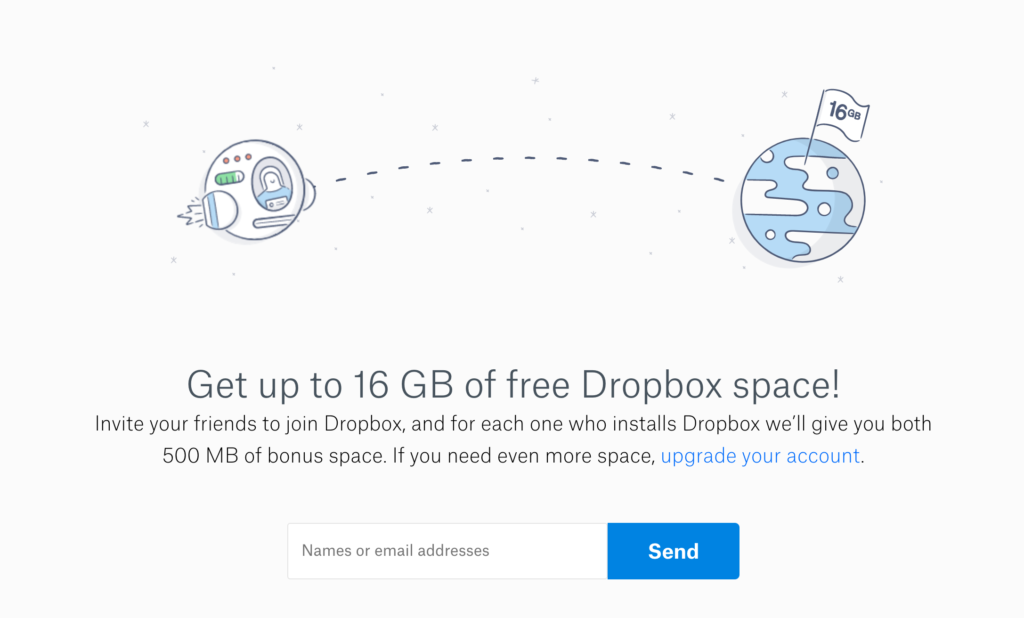 Direct Referral
A direct referral is a system that naturally generates referrals without using incentives.
A direct referral occurs if the products and services are beneficial and valuable. A typical example of a direct referral is getting permission to use the service for free as an exchange of providing a promotion of the service.
Below is Hubspot's input form for the free version. At the bottom is an introduction to Hubspot. You'll often see it in the free version of the Shopify App.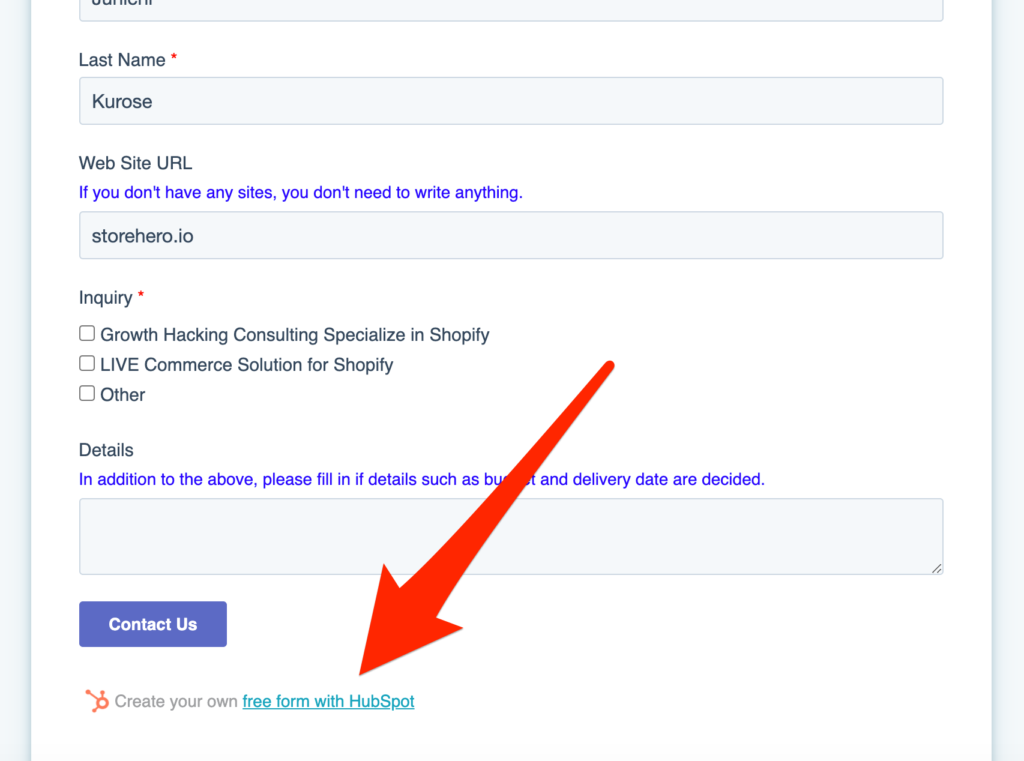 Now that you've gotten some ideas, I'll describe how to launch a referral program (incentive-based referral) into your Shopify store.
The Procedure for Implementing a Referral Program
Follows are the steps of implementing a referral program in the Shopify store.
Decide a reward
Choose a referral program app
Build a landing page
Promotion
Analysis and improvement
I will explain step by step.
Decide a reward
First of all, let's decide on a reward.
A typical example is an incentive existing customer gets a discount coupon when the introduced acquaintance makes the first purchase. Many of the referral programs offer a discount coupon to acquaintances as well.
Below is the Away's referral program for suitcases; both existing and new customers get $20 off discounts.
The referral program of BONOBOS; both existing and new customers get 25% off coupons.
An incentive doesn't need to be financial offers. You can give away sample products. In that case, it can also serve as product promotion.
Choosing Referral Program App
After deciding on an incentive, let's install the Shopify App.
Many Shopify apps can implement referral programs, including:
The referral program apps tended to be expensive due to collaboration with other apps and commission fees. Please choose the cost-effective app for your company according to the function you would use.
The Shopify App makes it easy to implement your referral program's features, such as managing users and generating referral links in your Shopify store.
Referral Candy
ReferralCandy is a well-known referral program app. I will briefly introduce how to use it.
First, set the rewards conditions such as discount amount, percentage, and expiration date.
Next, select and edit the invitation email theme. This email is intended to notify the customer of the invitation link.
You can design a landing page with the same theme as the email.
You can also set a default message for referrals in social media. It is essential to enhance the appeal of the message.
Perform advanced settings and slight adjustments, and now you can start the operation of the referral program.
Smile
Smile has a free plan. It has limited functions than ReferralCandy, but it's simple to use. It's an excellent place to try out how it works.
First, set up a reward. You can set conditions such as how much discount you offer for purchase.
Referral links will be notified to customers via the following pop-ups and emails.
Build a Landing Page
Building a landing page is useful for motivating participation in referral programs. As mentioned above, you can create a landing page with ReferralCandy.
Besides, to notify your customers of the referral program by email, you can reduce ignorance by installing a landing page in the Shopify store.
Promotion
Set the referral program to be recognized by existing customers at the right time.
Approach customers by email, chat, or social media when their engagement is high. The engagement gets significantly higher immediately after purchase or after the product arrives.
Immediately after purchased
The Thank You page (order completion page) is a perfect place to notify the referral program.
Shopify apps such as ReferralCandy have a standard feature of the Post-Purchase Pop-up for referral program appeal on the Thank You page.
Similarly, approaching by email and chat immediately after the purchase is ideal for informing the referral program.
Shopify apps such as ReferralCandy, LoyaltyLion, and Smile have the feature to send out the referral links by email right after customer purchase. Let's take advantage of it.
Furthermore, if your customers are authenticated (connected) by LINE or Facebook chat, the open rate is higher than emails.
Inform the URL of the referral program link by chat. You can confirm the URL of the referral link for each customer and the guide pages on the managing screen.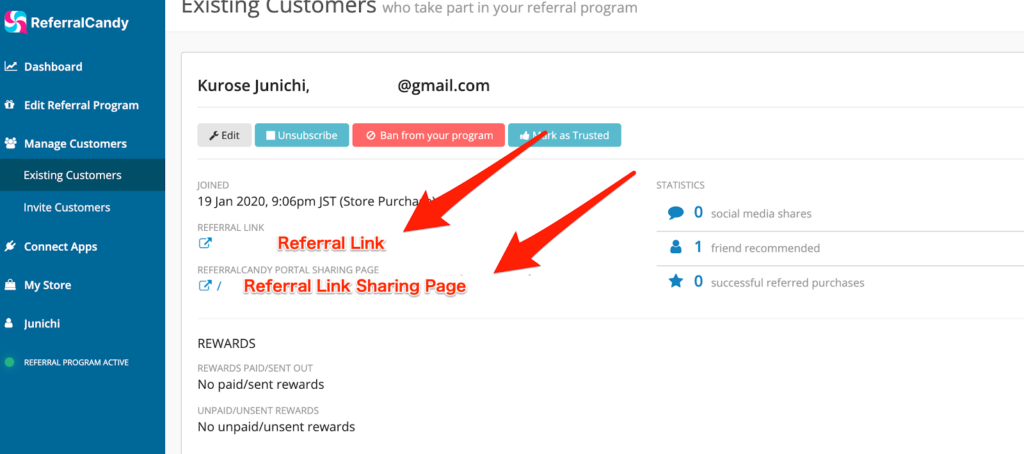 In case using chat is highly effective, you may consider using API (Application Programming Interface) Shopify App such as ReferralCandy with chat tools to improve work efficiency.
The moment the product arrives
There are methods to notify the referral program by email or chat at the moment the product arrives. You can include in the packaging (leaflet, etc.). If the customers are satisfied with the arrived product, it is an excellent time to recommend others.
Reaching out to customers who are posting Unboxing photos and videos on social media is another tactic.
Not limited to referral programs, steadily communicating one-to-one with customers is fundamental to enhance customer assets.
Even now that Glossier has become a unicorn company, it's outstanding that they value individual conversations with customer posts.
Analysis/Improvement
Analyzing the customers who are contributing to the referral program gives you unexpected tips.
It's essential to analyze whether the referral program is increasing revenue. The repeat purchasing rate is the key to generate referrals. Make sure and analyze the repeat purchasing rate of the customers who have been referred.
Analysis of a Vital-contributor
You may find out how a vital-contributor introduces a product by searching the referral link URL on Twitter. You can get tips from the way they do. You also can improve your referral message template in social media with tips.
Investigating a backlink of the referral program introduction page, you can determine the inflow source of attracting candidates.
Viable to find backlinks using Moz and Ahrefs.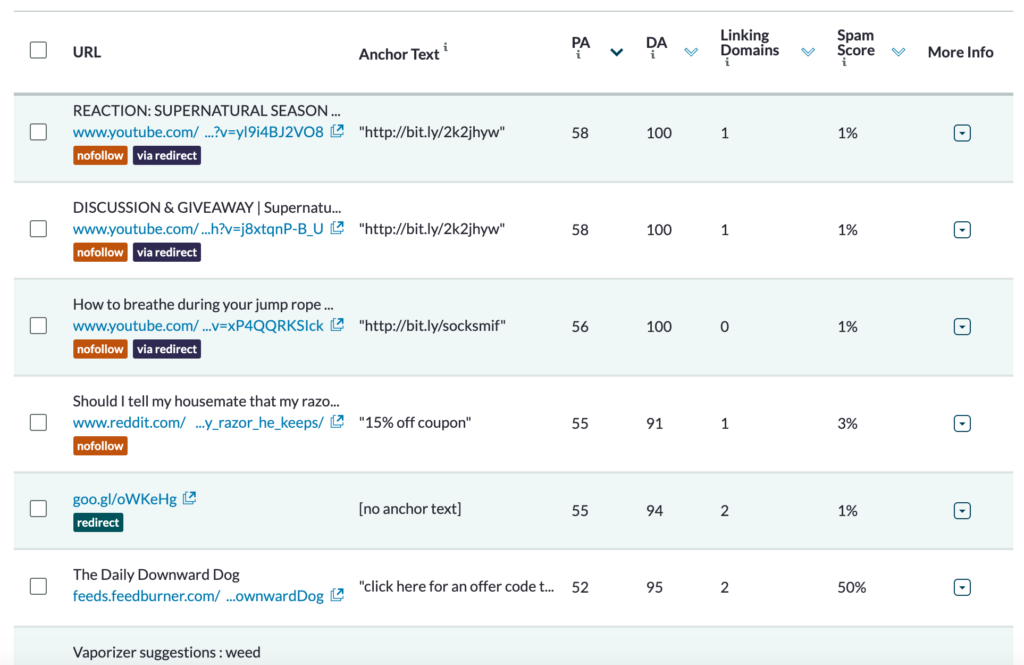 You can explore more detail of how contributors attract candidates by following steps. First, connect the ReferralCandy API with your landing page.
Then integrate Google Analytics on the landing page. Also, with the Shopify App, UserGems, you identify which customers have many followers. Offering special incentives will boost the referral.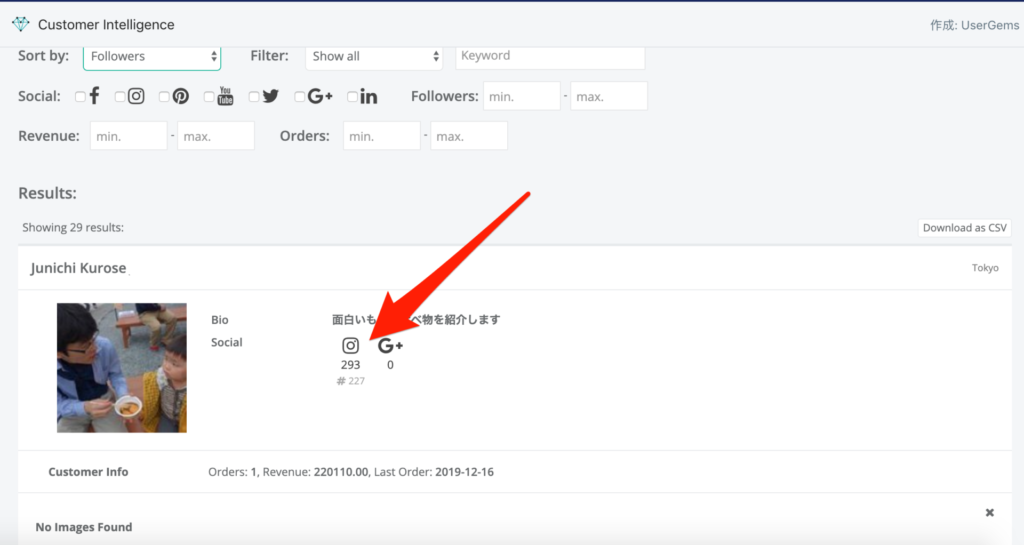 Is it increasing revenue?
The Shopify apps such as ReferralCandy can aggregate how much revenue comes from referral. On the other hand, it is necessary to confirm whether the repeat purchase rate of customers who first bought through referrals is high.
You don't want bargain hunters gathering in your store. It doesn't contribute to profits.
Analyze long-term sales; it is accurate to aggregate the LTV of customers via the referral program. But a quick way to check is to use the Mixpanel, which I have introduced in the customer engagement article.
Summary
I've introduced how to launch a referral program on Shopify.
A referral program is complicated, but hopefully, it will grow skyrocket.
Please give it a try if your Shopify store has a high repeat purchase rate. If you have already been working on the referral program, please share your result and feedback. Your comment is highly appreciated.
GrowthHack consulting services specialize in Shopify
StoreHero provides the Commerce Hack and a growth hack consulting service specialized in Shopify.
It supports Shopify owners to grow faster, get their businesses back on track, and run their businesses.
If you want to use Shopify to grow your commerce business, please do not hesitate to contact us.
Contact Us